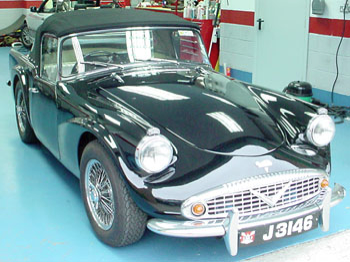 Since the company's start, nearly 20 years ago, we have had a steady flow of interesting Classic vehicles through our workshop.
Many, we have been privileged to have been picked to carry out full interior retrim and refurbishment to complete projects that have sometimes taken years of meticulous restoration by both their owners and renowned restoration shops.

We are specialists in the detailed reproduction of any interior from Veteran cars to brand new. We carry out trimming using the original styles and materials from working with Tacks and Horse hair through to the latest modern vehicles and techniques used today.

Kevin Baggs has personally owned various vintage and Classic cars from the 1920s and 30s and has a keen interest in this area. This has enabled us to be able to offer vast knowledge and experience in a field that is a passion for our owner who stills works in the workshop on a daily basis ensuring the smooth running, quality and high standards that have been key to the companies success and reputation.

We offer a fully insured modern workshop facility with a environment where all the staff are relaxed and experienced in working on and around high value and pristine vehicles on a daily basis. Some with a value in excess of a million pounds, but more are priceless to their owners, and are also their pride and joy!

We have experience in working on Bugatti, Bentley, Austin, Aston Martin, Ferrari and many more. Please take a look at our Gallery section of this site to view just a small selection of the vehicle we have been privileged to work on.

Our services include:

•
Tailor-made Hoods

•
Lined hoods with glass rear windows

•
Side screens

•
Tonneau covers

•
Hood Envelopes

•
Headlining

•
Carpets

•
Full Leatherwork

Insurance requirements can to be tailored to suit on extreme high value vehicles.