Daimler 1937 Fixed Head Coupé
This very rare 1937 Daimler was designed by and made for Mrs. Mackle, the wife of Joseph Mackle of Stratsone Ltd. and was built to her personal high specification with a one-off cream leather covered roof.

It had a main bench seat in the front - whereas, in the rear there was a very unusual single sideway-facing seat that you could swap the base from one side to the other, depending upon which way you wanted to sit.

The vehicle had lots of intricate detail on the interior leatherwork with satchel style pockets on the rear of the front seat backs and matching map pockets on the rear bulkhead.

This was a very labour intensive interior with lots of detail using 5 hides of leather on the interior and a further 3 hides on the roof covering.

It had a detailed inlayed west of England wool cloth headlining with rear blind.

Our customer had carried out a 100% nut and bolt restoration on this vehicle to a very high standard returning it to its original state and we were asked again to reproduce a interior as a mirror of its original high standard in full cream leather throughout with matching cream carpets and Roof.

This was all carried out using the same methods and materials originally used i.e. no foam and staples on this job! All hand stuffed with cotton wadding and finished with fine-headed tacks.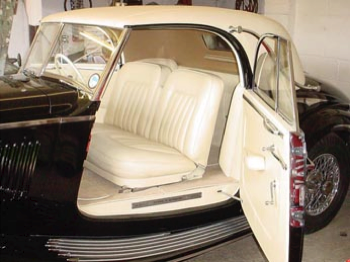 Roll mouse over picture to see car with Mrs. Mackle, in it's 1937 hey-day!

Kevin's quote:
" This was a pleasure to do on such a rare vehicle."
Visit again for new Project Insights