WOW! This is the Ultimate Ultima!!
This vehicle has been built to its owner's highest personal spec with no expense spared … and it is road legal!

It has a brand new Corvette 7lt LS7 engine that has been tuned and fitted. This engine is naturally aspirated and is capable of producing over 700bhp!

Ultima cars are normally known for their legendry track performance and race finish, with limited interior for weight and performance. They would normally just have the bare essentials to get you around a circuit at jaw dropping speed.

This customer however had a different idea on the subject and wanted to arrive at the track in style and the plushest comfort possible.

Our Brief was clear "I will leave it up to you what to do but I want everything leather" he said even the complicated roll bar! we agreed on the colours to use and the rest was left to us.
We had worked for this customer before so we knew his expectations would be high.

He had already had some home comforts fitted like a top of the range sound system (not that you would be able to hear it over the roar of the 700bhp engine fitted just behind your back!) Also a reversing TV camera had been fitted; its screen was fitted to the roll bar just where the rear view mirror would be on any normal vehicle.

It was a complicated interior that is totally bespoke and one off using two tone grey leather with stitching colour to match his orange wheels, no area of the interior of the car was left seen, it had to be covered in leather or carpet. Even the side storage boxes where lined in carpet all edged in leather to match the car and then the lids covered in diamond quilted leather with orange twin stitching a really high spec and Labour intensive interior.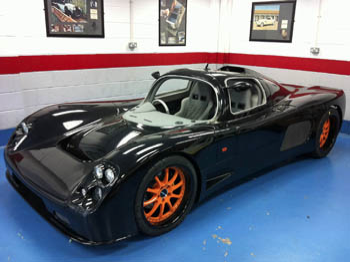 Roll mouse over picture to see the lovely new interior.
Kevin's quote:
" This project was a real treat! The standard of build quality that had been carried out was just stunning our work just complimented it further. It really has turned out to be the Ultimate Ultima! "


Visit again for new Project Insights