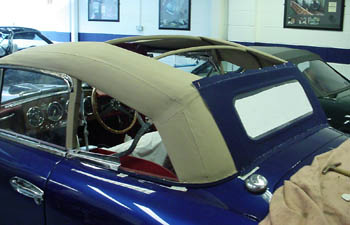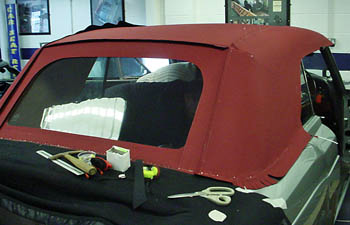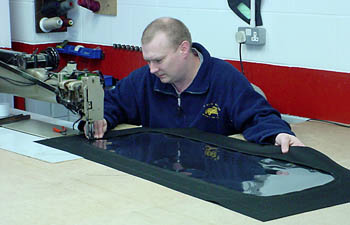 This type of hood making is carried out exactly the same as if you had a suit made by a tailor!

We pin out the various sections of material onto the hood frame, chalk and shape the sections and gradually machine the parts together carrying out further fittings and adding more sections as we go until we do a final fitting to the vehicle.

We have vast experience in making Hoods on Vintage, Veteran and classic cars. Kevin has himself a keen interest in this type of vehicle and owns various vehicles himself from the 1920s and 30s. He has gained vast knowledge and experience in this area and has made hoods on many vehicles including: Bugatti, Bentley, Rolls Royce, Hispano Suiza, SS Jaguar, Cord, Ferrari, Lagonda, Invicta, Clement Bayard, Aston Martin and many more. (You can see some of these in our Gallery section).

We are able to a make any hood with no patterns and regularly work from photos, diagrams or even original sales brochures. We have experience in three layered lined hoods from the 1920s and 30s, also side screens and full weather equipment for these types of vehicles can be bespoke made.

The oldest car we have made a hood for is a 1903 Curve dash Oldsmobile.

We can make a hood on any custom vehicle or prototype project, or for any vehicle that can not be obtained easily or requires a better than factory-fit or modification rather than an off-the-shelf fit or colour.

Please contact us for our up to date waiting list for this service.