Between 1969 and 1974, and again between 1989 and 2002, Nissan produced a high performance version of its Skyline sedan called the Nissan Skyline GT-R. This car proved to be iconic for Nissan and achieved much fame and success on road and track.

The Nissan GT-R, although no longer carrying the "Skyline" badge, has heritage in the Nissan Skyline GT-R. Like the later generations of the Skyline GT-Rs, the Nissan GT-R is four-wheel drive with a twin-turbo 6 cylinder engine and has the signature four round tail lights. However, the GT-R is an entirely new model sharing little with its Skyline siblings and is a complete redesign from previous Skylines – rather than an incremental evolution; the four-wheel-steering HICAS system has been removed and the former straight-6 engine has been replaced with a new V6.
Because of the GT-R's heritage, the chassis code for the all-new version has been called CBA-R35, or 'R35' for short (where CBA is the prefix for emission standard), carrying on the naming trend from previous Skyline GT-R generations. The GT-R has also retained its Skyline predecessor's nickname Godzilla, given to it by the Australian motoring publication 'Wheels' in its July 1989 edition.

Our Brief on this brand new vehicle, for a oversees customer, was total high spec. We had to upgrade the interior by totally changing all the standard leatherwork, the customer did not want any of the cheaper plastic areas left, like; dash, headlining panels and even down to the side plastic seat trims. This was all carried out with black diamond quilted leather and red stitching complemented with black Alcantara and red leather insets. The car's exterior had also been wrapped in matt red – which, with with its new interior, took the car to a whole new level, looking and feeling luxurious and very upmarket.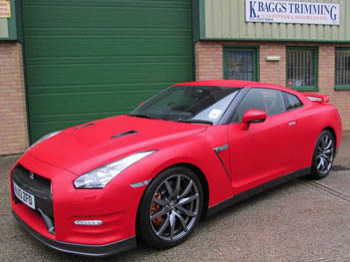 Roll mouse over picture to see the lovely new interior.
Kevin's quote:
" My staff's favourite job of 2013!
Their skills are really shown off in this interior with over 200hrs labour put in. A real show car!"



Visit again for new Project Insights