Lamborghini built its first military vehicle, a prototype vehicle codenamed the "Cheetah", in 1977. Lamborghini had designed the vehicle with hopes of selling it to the US military.


The original Cheetah prototype had a rear-mounted Chrysler V8 engine. The prototype was destroyed during testing by the US military. This led Lamborghini to develop the LM001, which was very similar to the Cheetah, but had an AMC V8 engine.
It was determined that the engine being mounted in the rear caused too many unfavourable handling characteristics in an off road vehicle, so the LMA002 was born, moving the engine (now the V12 out of the Lamborghini Countach) to the front. After much testing and altering of the prototype, it was finally given a serial number and became the first LM002.
We were very proud to have be chosen again by 'Lamborghini Wycombe', to be involved in, and work on such an interesting and high profile project.
See a slideshow of our interior work.
This vehicle has undergone a total strip down restoration by the London Based Lamborghini specialists .They have in our opinion produced a restoration of the highest standards possible – putting in over 2400hrs of Labour. It is always a pleasure working with their highly skilled team of approved Lamborghini service and body shop staff. More of the cars full restoration can be seen at
www.LM002.co.uk
Our Brief on this vehicle was to replicate the interior to its original factory condition. This took us over 300hrs of Labour and 12 hides of leather!
This project was carried out in stages over a 6 month period which finalised in the vehicle arriving to us ready for carpets and the final fit up and adjustments of all the leatherwork.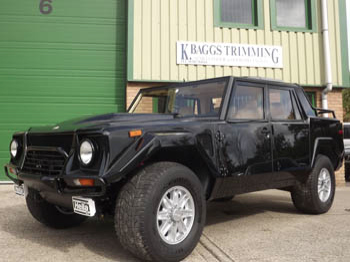 Roll mouse over picture to see the lovely new interior.
Kevin's quote:
" What a stunning, imposing vehicle to work on, my team and I Just love our jobs and can't wait for the next project from these guys"



Visit again for new Project Insights