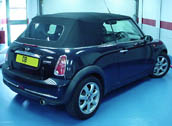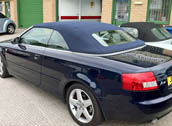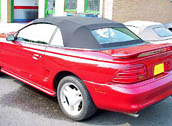 Cabriolet, Soft Top & Convertible Hoods
We are specialists in the replacement of modern cabriolet hoods and over nearly the last 20 years have become main dealer fitters for many dealerships and their body shops in our area.
This has given us a reputation for being reliable both on service and the quality of workmanship, always working to factory specifications to meet the high requirements of these customers.


Our hood fitters are experienced on the latest models and can undertake the replacement of any fabric folding car hood, soft top or convertible on the market to original fitting spec from Ford to Ferrari, all carried out at our fully equipped and insured Poole workshop.
We do not sell our hoods on a DIY basis, as hood fitting is a very specialist and complex undertaking — and a good hood can be made to fit poorly by an inexperienced fitter.

Same day service

Most hood replacement can be carried out on our pre-booked same day service.
Drop off by 9am and pick up at 4.30pm. lots of customers make a day out of it and go to nearby Poole or Bournemouth while we carry out the work on their vehicles.


Please email or call us for a Quotation for any make or model.
Use arrows to click back and forth through gallery
to find a hood fitted to match your vehicle!
Call us if you don't see one…